The Weekly Menus Tab in Grocery-Tracker is designed to help you prepare a weeks worth of meals at a time.

In order to use the Weekly Menus features, you must first create a list of Recipes to select from. If you simply want to use the Weekly Menus functionality without building actual Recipes, you can simply create Recipes with a minimal amount of data, basically simply creating a list of Recipes to select from.
The Weekly Menus screen starts out blank, waiting for you to create your menu as shown here.
Thanks
To get started, simply tap the "Add" button at the top right of the screen.

This will display a list of weeks extending out 6 months.
Then tap on the week you want to plan for and Grocery-Tracker will create a weeks worth of menus for you to fill in.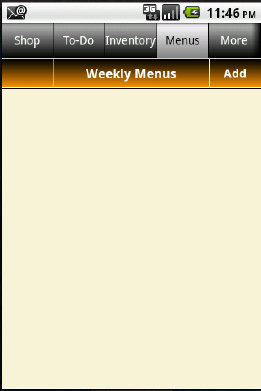 From this screen, simply tap on the Plus sign "+" to add a meal for that day. A pop-up will be displayed showing the available meals to plan.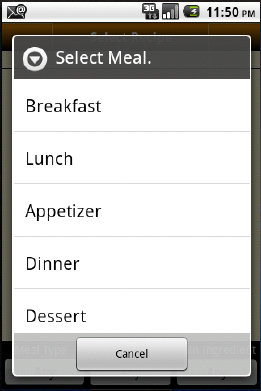 Then, tap on a meal and GT will then display your available Recipes to select from.

You can either enter a meal directly, or tap the check box of a Recipe to select it.

Tapping on the recipe will display it.
Tapping on a checkbox will select that recipe for your meal.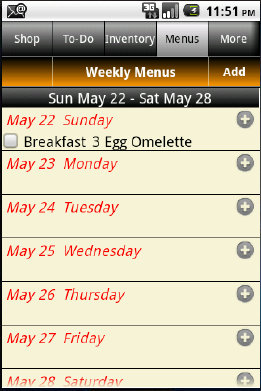 Tapping the + button will once again display the "Select Meal" pop-up. You can then create the complete menu for the day, or days as needed.

Tapping on the check-box will check off the current meal.

Tapping on the meal itself will display that meals recipe.

Long-tapping on the meal description will bring up the meal edit screen.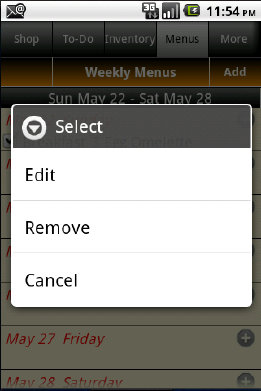 A weeks worth of Menus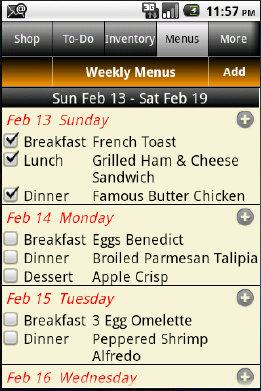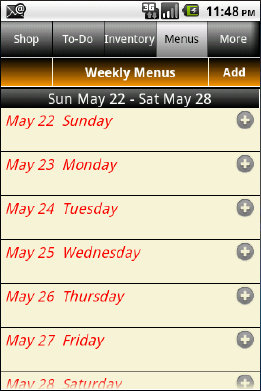 Also, please review the "Introduction to View Inventory" topic on the main users guide screen. If you have created complete Recipes and have linked them to your personal Product Catalog, you can quickly see a weeks worth of ingredients needed and what you have in Inventory and what you need to shop for,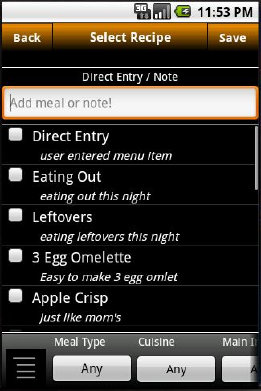 Simple to use! - Simply Powerful!